Introducing…Marc Riba visits ECA.
Bridging connections between Scottish and Spanish artists is a key part in our job. We are glad to introduce Marc Riba's visit in Scotland. He will be with us on Friday 30th  September for a Q&A session and prior to that he will give a masterclass at Edinburgh College of Art (2pm)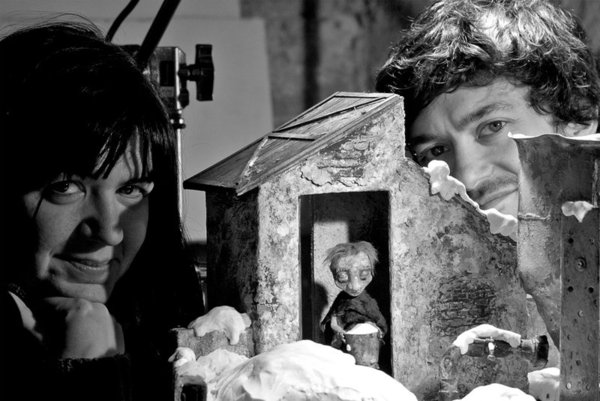 On Friday 30 of September we will celebrate a short (film) homage to Catalan film industry here in Scotland with a special event at Old St Paul's Hall. The programme includes a retrospective into the work of world acclaimed catalan animators Anna Solanas and Marc Riba. Marc will be with us for a Q&A session after the films.
Sharing the duty, this month Anna will be in MoMA introducing their work to New York audiences and Marc will be doing so in Edinburgh. Lucky us, their mastery with puppet style stop-motion will be uncovered by some and re-discovered by others -most of our audience yet do not forget about dark and disturbing Canis short film-.
Watch Canis Trailer
Marc will be holding a free stop-motion Masterclass for filmmakers and film students earlier on Friday -2pm Fri 30 September– at Edinburgh College of Art. He will show the whole creative process from the doodles to how their puppets become obscure rebels and disturbing characters.
It is time to pay a well-deserved tribute to the work of Barcelona-based studio I+G Stop Motion. Marc Riba and Anna Solanas have long been favorites of the genre film circuit, their deliciously dark sensibilities fused with remarkable technical skills and a jet black sense of humor. ( ScreenAnarchy) They have made 8 short films which have been selected in more than 1000 festivals around the world. Fifteen years on the road, and we will celebrate it inside 'A Short Homage to Catalonia'. Further information about programme and activities for the big night can be found here.
We are proud of having Marc Riba in Edinburgh with us for such an occasion. We'd like to take the opportunity to share his expertise within Scottish film industry network. It is a unique chance to catch this genuine duo and bridge connections between Spanish and Scottish animators. Something that Cinemaattic has already been working for in past years.
Marc Riba & Anna Solanas are visiting New York's Moma next week, they were recently in Rotterdam and Montreal introducing their work inside the retrospective "From Doodles to Pixels: Over a Hundred Years of Spanish Animation". It is a deep honour for CinemaAttic having Marc Riba in Edinburgh from the 29 to the 30 of September.
If you understand a bit of Spanish check this piece that Fotogramas wrote on the work of Anna Solanas and Marc Riba last week
http://www.fotogramas.es/Cinefilia/El-arte-de-la-animacion-fotograma-a-fotograma
If you don't, just check this other piece by MoMA.
Pencil down amigos,
Fifteen years of dark puppetry. Masterclass with Marc Riba
ECA Main Lecture Theatre
Fri 30 Septemeber at 2pm