Award winning director Iciar Bollain will present her latest feature The Olive Tree (El Olivo) across UK and Ireland during April 2017.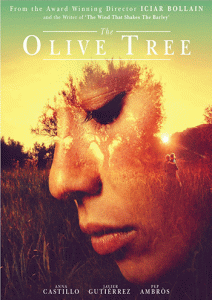 The Olive Tree, Icíar Bollaín's inspirational and poignant story of a vibrant, determined young woman on a journey, is released on Friday (17 March 2017) in cinemas nationwide (UK & Ireland).
From Goya Award Winner and internationally acclaimed director Icíar Bollaín (Even the Rain, Take My Eyes), The Olive Tree follows a wilful and spirited young woman named Alma who embarks on a journey from the East coast of Spain to Germany in order to retrieve an ancient olive tree precious to her ailing grandfather. With the help of a variety of friends & new acquaintances, she pulls everyone she encounters into her plan with unexpected consequences for all involved.
The powerful feature film which stars Anna Castillo, Javier Gutiérrez and Pep Ambròs was written by Paul Laverty, winner of the Best Screenplay award at the Cannes Film Festival for Sweet Sixteen. Laverty is also well-known for penning Ken Loach's Palme d'Or winner The Wind that Shakes the Barley, the Cannes Film Festival Jury Prize Winner The Angels' Share, and most recently the Palme D'Or and BAFTA Award-winning I, Daniel Blake.
" Icíar Bollaín's bittersweet tale of familial and environmental activism could blossom into an arthouse crowdpleaser" – Guy Lodge, Variety
"A feel-good combination of angry and tender…rooted in the best cinematic soil there is — emotional truth" – Jonathan Holland, The Hollywood Reporter
Full details of cinemas screening the film are listed here