Buñuel and Mercero. Two cult masterpieces of Spanish cinematography. Two claustrophobic horror classics together for just one night.
Pretty excited to recover these two gems for a very special night. Constantly looking for new film experiences Cinemaattic have put together Antonio Mercero's shortfilm La Cabina (The Telephone Box) with Luis Buñuel's El Ángel Exterminador (The Exterminating Angel).
FREE TICKETS FOR EDINBURGH: http://bit.ly/2uZvk5r
FREE TICKETS FOR GLASGOW: http://bit.ly/2fJIxO5
It's been forty-five years since La Cabina changed Spanish television forever, fifty-five since the release of Buñuel's El Angel Exterminador but in a time of political uncertainty unparalleled in recent memory, our shared sense of "what next?" panic and inertia finds its echo in these people. They can barely rouse themselves to leave a room or a telephone box, unable to take any decisive action beyond attempting to survive. Both Buñuel and Mercero built these two masterworks on a common bold premise: Society is fucked up.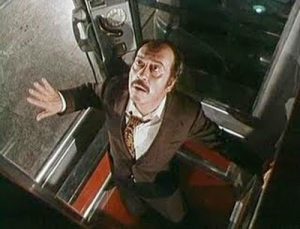 "La cabina", Antonio Mercero (1972) Made during the last years of General Franco's right-wing dictatorship in Spain, La cabina (The Telephone Box or Phone Booth) is a disturbing little movie, which critiques the insidious potential of technology, and the mass indifference of the public to the plight of the individual.
Luis Buñuel's "The Exterminating Angel" (1962) is one of his most ferocious and brilliant films.
A group of well respected upper class friends are about to celebrate a dinner party after a theatre play…  A macabre comedy, a mordant view of human nature that suggests we embody savage instincts and unspeakable secrets.
The Exterminating Angel is at the same time a fierce critique of Spanish bourgeoisie class during Franco regime and a desperate chant of an eighteen-year-exiled Luis Buñuel willing to get back to Europe. The sense of being trapped contaminates a successful dinner party that soon turns into a nightmare.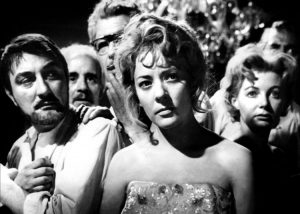 The film eventually reveals that the trap extends outward to encompass outsiders (including us, the spectators), who are all caught in the same network of bourgeois corruption, but on a much larger scale. We are offering this as free events to celebrate the shared quirkiness of Cinemaattic and Scalarama. You should expect themed surprises on the night…
Glasgow @ CCA 0n Sat 9 September
@ 7:00 pm – 10:00 pm
————————–
Edinburgh @ Summerhall on Tue 12 September
@ 7:00 pm – 9:00 pm