Article by Adam Williamson
When thinking of films that are set in Madrid, our thoughts might guide us to that one scene in that Jason Bourne film where Matt Damon runs around and fights people… or you might not remember that, it could have been any city really.
But what about those films that really set the beautiful city of Madrid as the centerpiece of the movie, almost like another protagonist in a drama. Would Trainspotting have been the same movie if it was set in some other city? No! So what movies are there that really encapsulates what it really means to be a "Madrileño" in the capital of Spain?
Films like 'Justino, A Senior Citizen Killer' show the less glamorous side of the city, a brutal Madrid in the early 90s in a context of widespread social crisis. Contemporary filmmaker Luis Lopez Carrasco has also been taking Madrid and a specific date -1982- to analyse Madrid and what was happening in the eighties in the Spanish capital. Films like 'El Futuro' and 'Aliens' offer new -and very much-needed- perspectives around the existing myth of the Movida Madrilena and the Spanish Transition. If we take short films, maestros like The Alenda Brothers -Jose Esteban Alenda and Cesar Esteban Alenda – have been using Madrid as a backdrop in many of their films. Filmmakers like
As Cinemaattic gears up for the retrospective CINEMADRID (9-28 September Edinburgh & Glasgow), we look at some iconic films made in Madrid.
Truman (2015)
Truman really takes Madrid on as the center stage of its production. Candidly thrusting us into the city from a cinematic perspective and showing us the everyday life of the city and its inhabitants.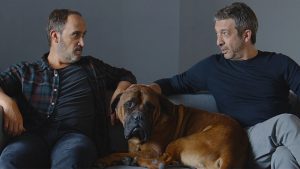 The story is about Julian, who lives a solitary life with is dog Truman after being diagnosed with cancer. His friend from Canada comes to visit him, and for a few days we see them share their time and discuss the future, and really showing us Madrid though its people as well as through its streets.
Mujeres al Borde de un Ataque de Nervios (Women on the verge of a nervous breakdown, 1988)
From legendary Spanish director, Pedro Almodovar comes a fast-paced dark comedy which in a mere 24 hours involves confusing breakups and attempted murders, unearthing terrorist plots and then attempting to stop them, and all set on the backdrop of Madrid.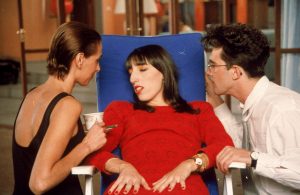 Such a plot demands a vibrant and fast-paced setting, for its bright cinematography and visual style are a perfect match for its vibrant characters and its bustling city.
Las Chicas de la Cruz Roja (The Red Cross Girls, 1958)
An older classic then some of the others, Las Chicas de la Cruz Roja is a musical romantic comedy which features the city and its iconic landmarks through its four protagonists.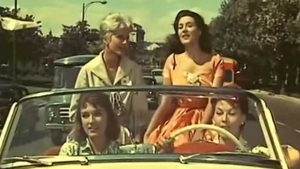 The four women are from very different social backgrounds and circumstances, they all come together and join forces to do fundraising for the red cross all across the city of Madrid, becoming close friends, and also attempting to attract their ideal and perfect partner.
Abre los Ojos (Open your Eyes, 1997)
Or as some of you might know it from its american remake, Vanilla Sky, with the brilliant Penelope Cruz starring in both of them.
A fantastic horror movie, Abre los Ojos is a thrill ride from the brilliant Alejandro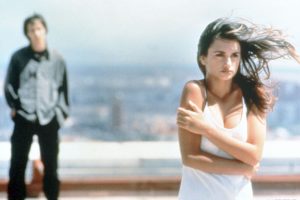 Amenabar as he tells the story of Cesar, a handsome man in which the day after he meets the love of his life he is left disfigured from a car accident. It features many classic Sci-Fi moments whilst simultaneously taking place in a late 90s Madrid.
Barrio (1998)
Madrid is a big city! And all big cities have their barrios. Here we have another film from the late 90s which shows us the lifestyle of three young teenagers in their barrio during the slow month of August and dreaming of running off to live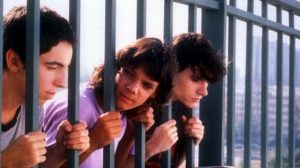 amongst the Madrileños.
This wee story brings us a loving coming of age film that gives us a good look of the life in the outskirts and how they plan to escape their current lifestyle.
El Dia de la Bestia (The Day of the Beast, 1995)
There is nothing better than a good cheesy horror film. Well, perhaps only a cheesy christmas comedy-horror film could be better! Think along the lines of Shaun of the Dead (only instead of zombies, it's demons).
It takes place in Madrid on the night before christmas, as one priest discovers that on the 25th of december of 1995, the antichrist will appear in the city of Madrid.
The priest teams up with a Black Metal aficionado and a Italian TV host with a love of the supernatural to try and take down the monster before it even shows up. If you love christmas films, horror films and comedy films (and films that are set in the fabulous city of Madrid) then this is a must watch.
Los Ilusos (The Wishful Thinkers, 2013)
Here we have a unique and fascinating documentary from filmmaker Jonas Trueba, which explores the art of creating cinema in the modern era of film.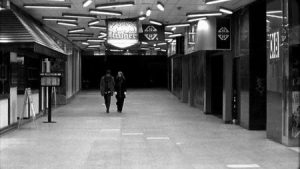 Featuring some of his diretor friends, it looks at the "empty moments" in the life of a filmmaker when they are not recording or creating.
A film about creating and the freedom of cinema, whilst at the same time almost documenting the city of Madrid. A film that explores the small moments in life with a big meaning behind them.
Ninato (2017)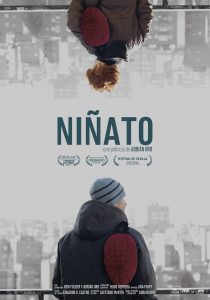 Living life in modern day Spain is tough. This documentary by Adrian Orr follows the story of a man with no job prospects, who lives at home with his parents and takes care of his three children. He spends his time making Hip-Hop music and encouraging his children to stay motivated in school.

This documentary explores the real societal aspect that many go through in Spain. With a lack of jobs and costly living in the capital, many people find themselves in these situations and unable to escape them. Things have been changing for the better in recent years, but we have also seen many people leaving Spain to find a better life elsewhere.
Basilio Martin Patino
Finally, and probably the most important director if we are to speak about Madrid and Cinema is Basilio Martin Patino. A foreigner Salamanca-born filmmaker that made of Madrid the centre of his filmography (its people, its welcoming spirit, the zarzuela music and Madrid's traditional songbook). Basilio Martin Patino made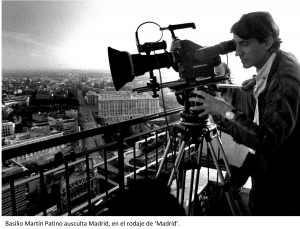 some of the most poetic films to the constant revolutionary spirit of Madrid and its resistance to foreign invasions, militar uprisings and even the more contemporary 15M indignados movement. 'Songs for after a war', 'Madrid', or 'Libre te quiero' are films that anyone willing to understand what is so unique about Madrid must see before visiting Spain's capital.
Cinemaattic will try to capture the essence of Madrid in September with a series of screenings (5) , talks (2) and events between Edinburgh and Glasgow around Madrid city, its culture and importance in new Spanish cinema. 
Dinnae miss it! All the info you need for  #CINEMADRID Retrospective