Janina Wagner's 'Curupira E A Máquina Do Destino' distorts space and time with ease and fluidity, taking us beautifully and eerily down the Transamazônica BR-230 and into the jungle at the shoulder of Iracema, one example of far too many young girls driven into prostitution at the side of this Rodovia since its construction.
Her character returns to the screen as a homage to Bodanzky and Senna's 1974 character of the same name, and we are told her ghost's story through an elegant and devastating portrayal of the occupation of the Amazon rainforest. Now we see where this stands in 2021, accompanying Iracema as she journeys to encounter the Curupira: a trickster creature of Brazilian folklore, which uses its backwards feet to create footprints that lead back to where it began.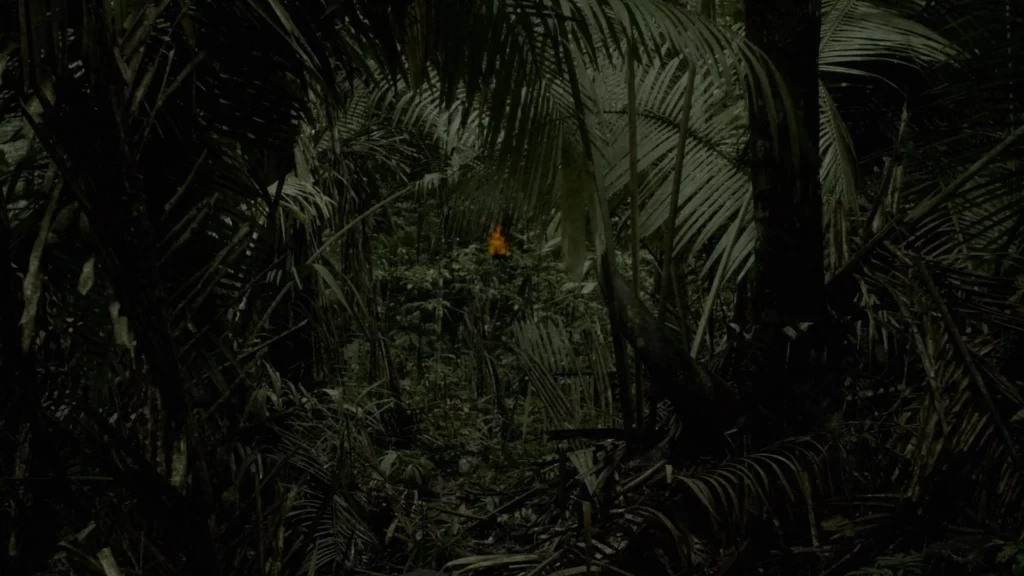 Set in the village of 'Realidade', Wagner builds a hazy, sunset-lit dreamscape sharply infused with hypnotic sounds, trancelike visions and the Brazilian irony of 'Ordem e Progresso'. A richly allegorical delivery that contends with the tensions between the passage of time, movement and stasis, we watch the mythical natural world burn in the name of industrial production, yet we feel its presence remain with a sadness not eclipsed by an adamant determination to fight back with greater fire. 'The world, the big world, is growing every day.
Written by Julia Myers 
Screening as part of the Landscapes of Resistance Short Films Programme this October.
SCREENINGS:
Saturday 29 October 22
St Peter's Episcopal Church Hall (14 Lutton Place, Edinburgh EH8 9PE) – 20:00 (doors open at 19:30)
Sunday 30 October – Sunday 6 November 22
Online Pass (watch from anywhere in the UK)