9 – 28  September 2018
We are back! In September we propose a series of screenings (5) , talks (2) and events (including two Movida themed parties) around Madrid city, its culture and importance in new Spanish cinema. We bring classics and modern cult films happening in Madrid and made by Madrid based filmmakers.
SCREENINGS
★ SUN 9 SEPT – LEITH DOCKERS – JUSTINO, A SENIOR CITIZEN KILLER **
★ THURS 13 SEP – THE SEAMORE GLASGOW –  MADRID ERA UNA FIESTA: EL FUTURO + ALIENS **
★ SUN 16 SEPT – FILMHOUSE – THE SILENCE OF THE OTHERS + Q&A Almudena Carracedo & Iciar Bollain*
★ MON 17 SEPT – GFT – THE SILENCE OF THE OTHERS + Q&A Almudena Carracedo *
★ FRI 28 SEPT – OLD ST. PAUL'S MADRID SHORTS: LOS ALENDA + Madrid Era Una Fiesta Party
TALKS – MASTERCLASSES
★ 17/9 ALMUDENA CARRACEDO ECA EDINBURGH – DOCUMENTARY MASTERCLASS
★ 28/9 THE ALENDA BROTHERS ECA EDINBURGH – FILM IN THREE ACTS (Writing, Shooting & Editing)
* In partnership with Take One Action Film Festival
** In partnership with Scalarama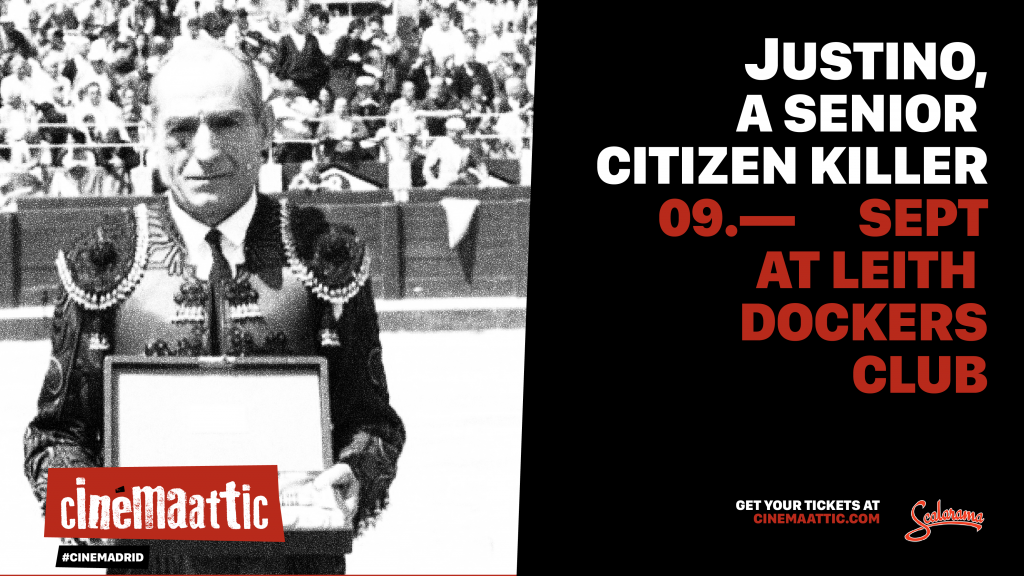 AY MADRID!
A Retrospective to Madrid. Capital city. Protagonist. Voyeur city. Madrid has seen the changes in contemporary Spain from a privileged point of view. Madrid has been used as the backdrop for a number of national and international films. In September we pay attention to the importance of Madrid in contemporary Spanish cinema and invite you to be part of this retrospective ñ
While rescuing films with Madrid as a narrative protagonist we will raise awareness of those other directors that we consider essential (Los Alenda, Luis Lopez Carrasco, La Cuadrilla)
These events dig in Madrid as a set for some important films, but also discuss the importance of Spain's capital from different points of view, from political and resistance movements to its architecture and urbanism.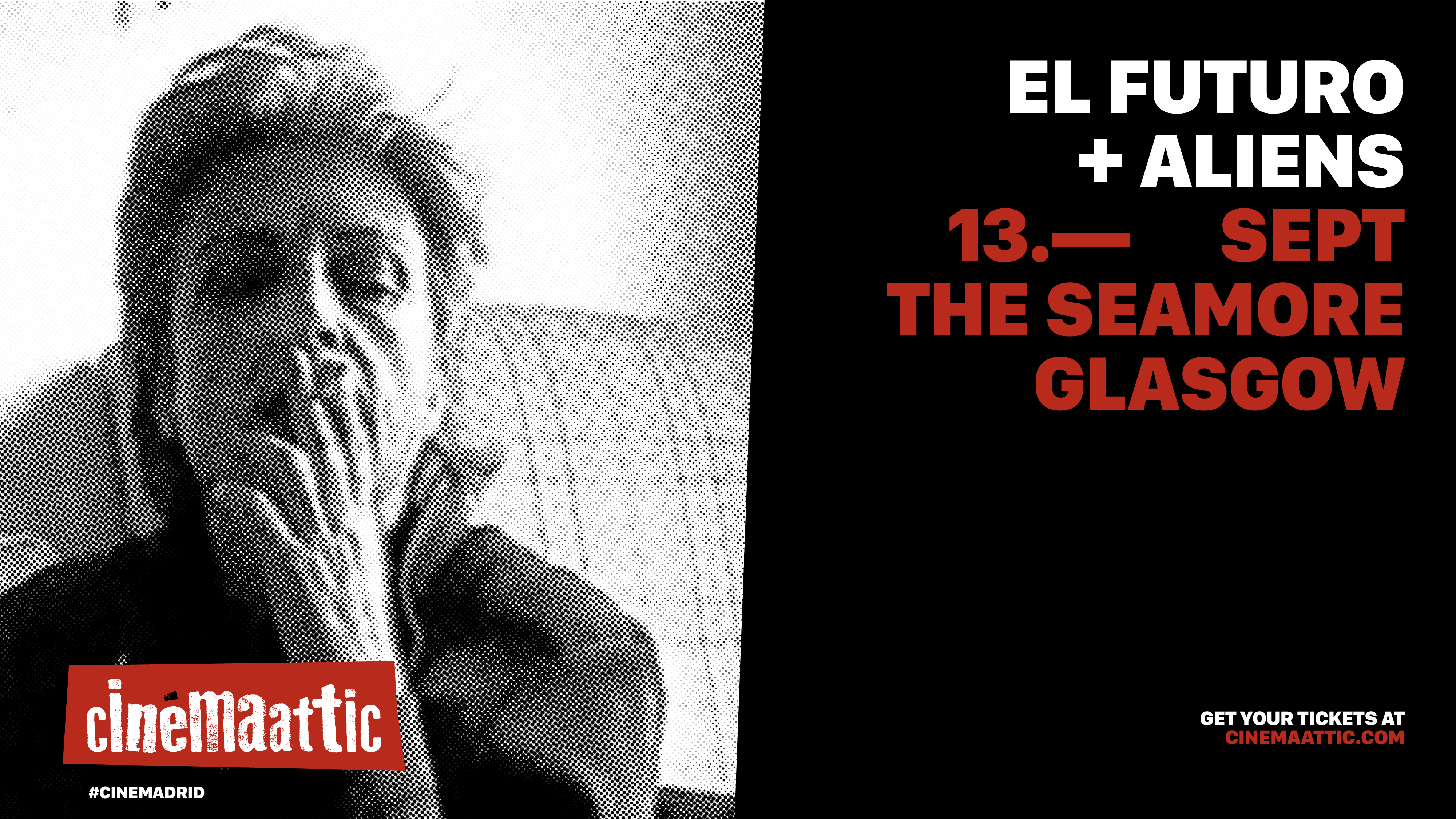 COLLABORATIONS
Collaborating with our favourite festivals. Most of the screenings are presented in partnership with other festivals that we love (Take One Action, Scalarama) and with the help of Accion Cultural Espanola (AC/E).
We are thrilled to team up with Take One Action to bring the Scottish Premiere of probably the most important film you should watch this fall (if you are into Spain's history and culture): The Silence of Others by Almudena Carracedo and Robert Bahar, produced by Almodovar's El Deseo, awarded in Berlinale and Grand Jury Award in Sheffield Doc/Fest this is one of the film events you should not miss in Edinburgh/Glasgow this September. Director Almudena Carracedo will be present and she will be joined by Iciar Bollain and Dr Mihaela Mihai for a post-screening conversation to discuss documentary filmmaking and the legacy of dictatorships in democracies. Almudena will also give a masterclass at Scottish Documentary Institute on Monday 17th Sept.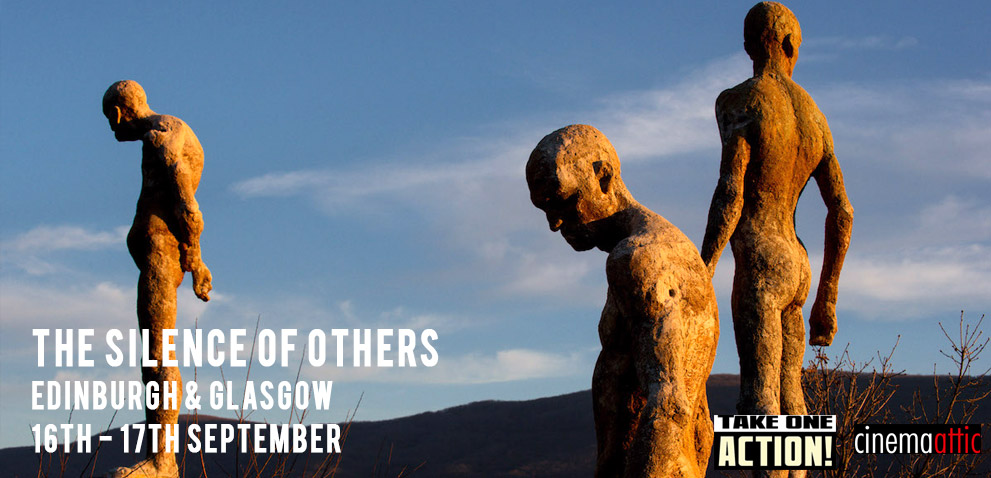 Once again the celebration Scalarama across the UK allow us to dig in some of our favourite cult films of Spanish cinematography, bringing horror, underground, classics or simply unknown gems. After bringing in previous years films like Arrebato, Accion Mutante or The Exterminating Angel we had a serious challenge to maintain the standards. Yet we think we have even raised it by far…
We were dying to host a Cinemaattic evening in a proper non spoiled institution venue in Leith, we were mad to do Cinemaattic at the Leith Dockers Club. And the sheer authenticity of the place required us to bring a film according to the character of The Dockers.
FILMMAKERS ATTENDING
Guests. We will have visiting filmmakers. Director Almudena Carracedo visits Scotland and will give a Masterclass in partnership with Scottish Documentary Institute and Take One Action on Monday 17 September.
Later that month we will have the Alenda Brothers (Jose Esteban and Cesar Esteban Alenda) in partnership with ECA Film & TV.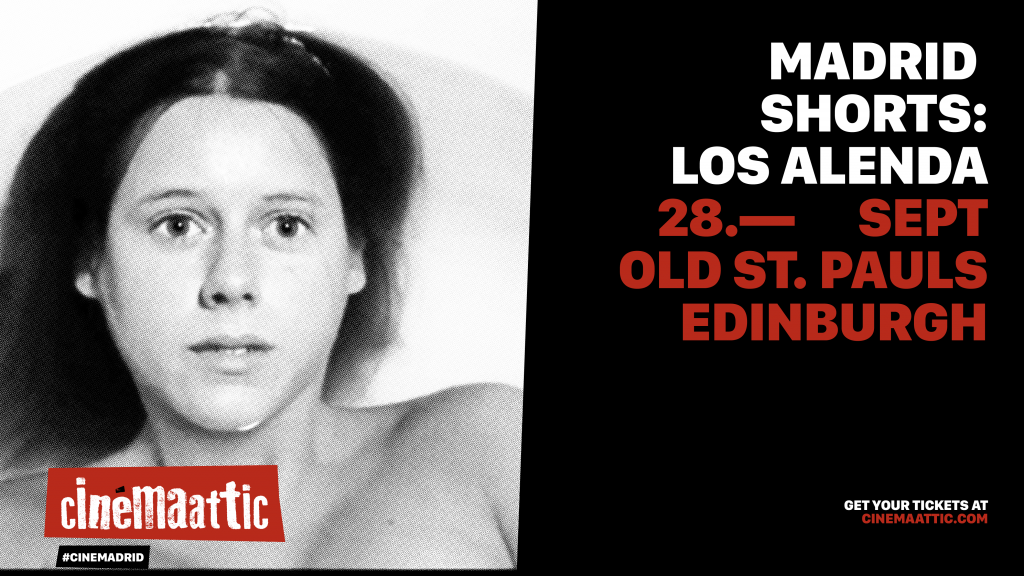 In collaboration with: