GLASGOW (FREE SCREENING + Q&A + LECTURE: SPANISH CIVIL WAR ON CINEMA)
Tuesday 3 October Andrew Stewart Cinema @University of Glasgow from 6pm
A film that examines the intensity of human passion against the backdrop of war.
One fiction feature, Uncertain Glory by Agusti Villaronga will bring the Catalan point of view on Spanish civil war. Based on the novel of Joan Sales, it was the first Catalan novel to depict the Spanish civil war from the defeated, republican side. Viewers will have the chance to experience a very well-known piece of history from a less well-known point of view, making this film a fascinating experience for all.
This screening is specially supported by Memorial Democràtic, Centre Català d' Escòcia and Generalitat de Catalunya.
EDINBURGH 
Thursday 28 September @Summerahll 8pm
The film will be preceded by an opening cocktail @Summerhall Cafe with Estrella Damm beers, gastronomic samples, live music by The Manolettes and a typical CASTELLERS show (human tower show).
The film will be contextualised with an introduction by Sergi Mainer from University of Edinburgh.
GLASGOW (FREE SCREENING + Q&A + LECTURE: SPANISH CIVIL WAR ON CINEMA)
Tuesday 3 October Andrew Stewart Cinema @University of Glasgow from 6pm
In Glasgow David Archibald and Jordi Cornella from University of Glasgow School of Modern Languages & Cultures will first give an introductory talk on Cinema and Spanish Civil War and the impact of the novel.
Isona Passola, president of the Catalan Film Academy (Acadèmia) will introduce the film to Glasgow audiences. She is also producer of Uncertain Glory and will contextualise the process of adapting the novel to feature film. 
---
SYNOPSIS: Aragón Front, 1937. Lluís (Marcel Borràs), a young republican officer temporarily assig- ned to an inactive post, meets an enigmatic widow and falls in love with her. Carlana (Núria Prims) tricks him into falsifying a document that makes her the Lady of the manor.
Lluís' best friend, Soleràs (Oriol Pla), a demoted officer, discovers the fraud and in exchange for his silence demands that Lluís take his son and wife, with whom Soleràs is secretly in love, away from the bombings in Barcelona.
When Trini (Bruna Cusí) arrives in the village it doesn't take her long to discover Lluís' betrayal and a "state of war" is established between them that will shake their moral foundations to the core.
"As in two of my previous films, El mar (The sea) and especially Pa negre (Black bread), the central theme of UNCERTAIN GLORY is the moral devastation wreaked on humans by war. Rather than focusing on the conflict itself or a political analysis of the war, it examines the feelings and emotions of the characters. It is through them that we discover the consequences of war far from the battlefield, in our case, so close and yet so far away. UNCERTAIN GLORY is a response to the need to close this chapter with the third film in an unexpected trilogy.
It has been said of UNCERTAIN GLORY that it would be a love story if only it weren't a war story. As far as the film is concerned, I would say just the opposite: it could have been¡ a war film but for the fact that it is a love story. A passionate and romantic love that pits two men who love the same women against each other and two women who are attracted to these same two men." (Agustí Villaronga)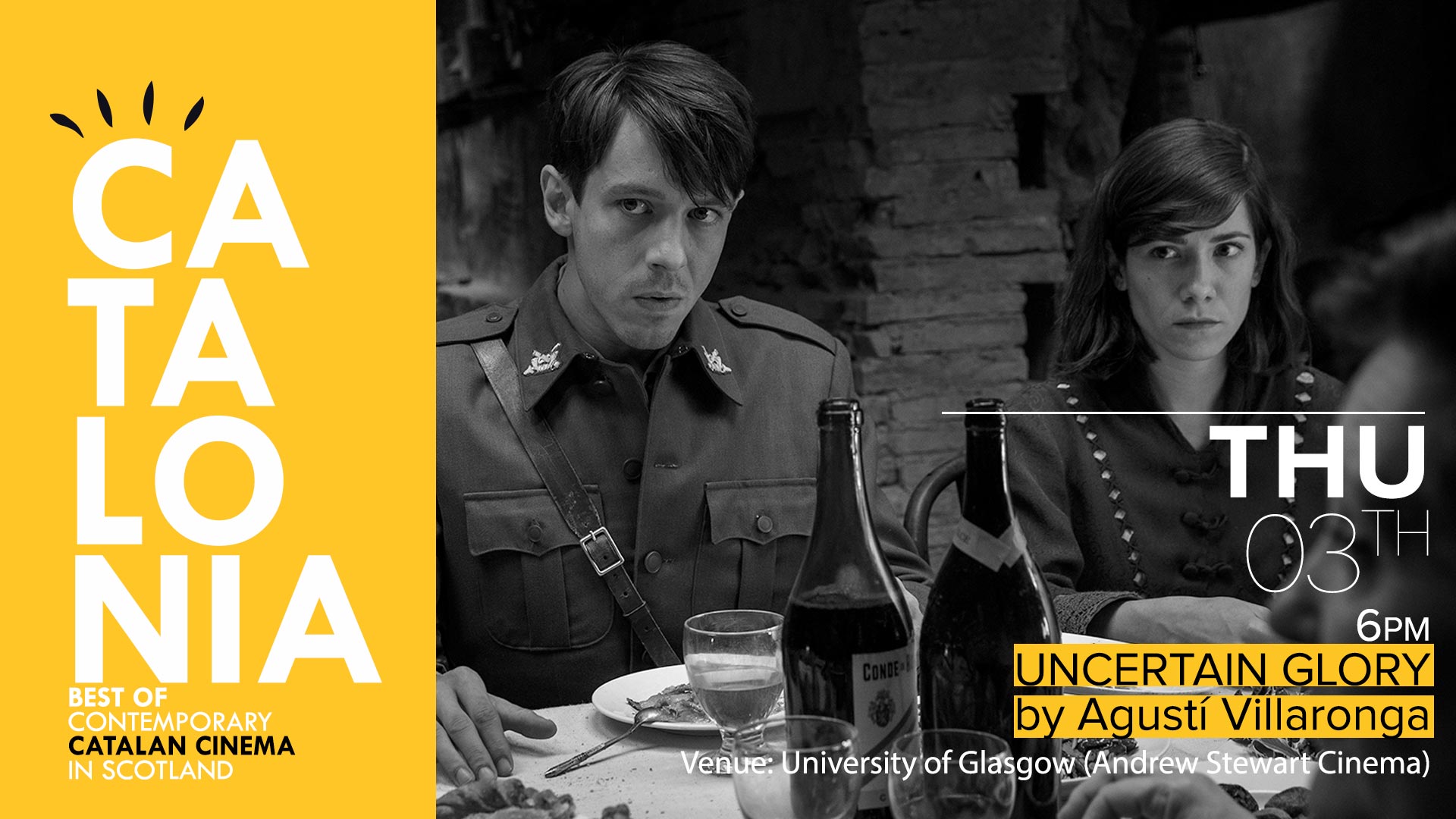 This screening is specially supported by Memorial Democràtic, Centre Català d' Escòcia and Generalitat de Catalunya.