CinemaAttic proudly present a focus on films from Galicia. Wednesday 12 April CCA Glasgow.
Galicia, Northwest Spain. An exciting film movement has been born: Novo Cinema Galego. The talk of town since its inception in 2010, a new wave of filmmakers coming from Galicia have been successful in all the competitions and festivals where they've been present – from the FIPRESCI prize in Cannes to Locarno, Toronto or Rotterdam. This month Cinemaattic dedicates its programme to the movement itself and some of the more relevant films produced in Galicia in the last year. 
In collaboration with Curtocircuito International Film Festival, Cinemaattic bring to Scotland an internationally acclaimed film selection of works ranging from documentary to experimental film including the 2017 Goya winner to Best Animated Short film. Themes as land or shelter and the idea of home are constant in modern Galician storytelling given the deep influence of emigration in Galicia's history.
Controversy follows the overall idea of Novo cinema galego since its inception and the question keeps arising. What is Novo cinema Galego? does Novo Cinema Galego offer an accurate representation of Galicia? What's the role of Galicia in this movement? Novo Cinema Galego is a group of filmmakers who understand better than the rest that association is key today in the film industry. Helping each other, networking, participating in others' productions become essential to engage with audiences and gain international relevance.
Is there any shared Celtic roots between Galician and Scottish contemporary film? Are we talking about converging identities? We aim to answer some of these questions with a weekend of screenings and activities in Edinburgh and Glasgow celebrating the moment in the sun of Galician filmmakers.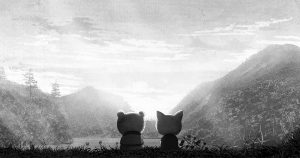 Galicia in Short. The Programme.
Wednesday 12 April
7.30 pm doors open, 8pm Show starts
CCA Glasgow
Moving image meets poetry in Tout le monde aime le bord de la mer – Everybody love the Seashore by Keina Espiñeira, awarded at IFFR and nominated to last European Film Awards in the category of Best Short-film. Alberto Vázquez swept last Goyas ceremony in an unprecedented night when he won both Best Animation short film with Decorado and best animation feature with Psiconauts. We are thrilled to present Decorado for first time in Scotland. The moody black-and-white animation is built on the premise: the world is a marvelous theatre, but the casting is deplorable.
Shelter and resistance.Critically acclaimed in Toronto and Chicago  Burning Mountains that Spew Flame by Helena Girón and Samuel Delgado take us on a trip to the depths of Lanzarote island. It is right there, in the depths of one of the longest volcanic tunnels in Europe where people seeks for refuge from a growing threat, and the tunnels become gateways between space and time.
ECO -Echo by Xacio Baño is a beautiful film about the cultural constraints that women had to face in Galicia (extended to all over the world). Echo's voice was stolen and she was once sentenced to repeat what everyone else said. Trapped, she decides to distance herself from human touch and take shelter in the pages of a personal diary.
From established authors to emerging talent as we present Borja Santomé's Rueda Cabeza*. An abstract city poem that blends photography with animation and what appear to be water-based paints. Documentary is essential for galician filmmakers and Ivan Castiñeiras -well known among Scottish film institutions- is one of its greatests. Où est la Jungle? (Where is the Jungle) is the tale of a city that keeps spreading and devours the jungle. At the same time, the city's ruins host another jungle, a veritable internal memory. The question of the frontier arises. What delimits one space from the other?
Decorado – Alberto Vazquez

Rueda Cabeza – Borja Santomé

Tout le bond aime le bord de la mer – Keina Espiñeira

Where is the jungle – Iván Castiñeiras

Eco – Xacio Baño

Mountains that spew flame – Helena Girón y Samuel Delgado.
*We are proud to have two guests this time. Beli Martinez, producer of Visións and godmother of the movement. Beli Martinez is the producer of some of the most acclaimed works of the so called Novo Cinema Galego wave, she will be joining us on Sunday 2 April to present the initiative "Cinema e Muller" and Visións for first time in Scotland. Borja Santomé is one of the rising starts on Spanish Animation. London-based Galician artist Borja Santome will give an Animation Masterclass at Edinburgh College of Art talking about the challenges for young Animators and professionals in the industry today.
Novo Cinema Galego. Shortfilms from Galicia
Wednesday 12 April
7.30 pm doors open, 8pm Show starts
CCA Glasgow
Tickets here
Galician films are finding their recognition in Scotland this year!