NEW SPANISH DIRECTORS
Celebrating 10 years promoting Spanish films in the UK, CinemaAttic starts a new series of Retrospectives to distinctive emerging directors from Spain –  available to watch online globally! Join this series of 'spotlights' to discover the rising filmmakers that are poised to be the Almodóvars, Sauras, Bollains, Laxes, Amenábars, or Coixets of tomorrow. CinemaAttic introduce us to the early short films of the rising stars of Spanish Cinema.
First up is Pedro Collantes, madrileño-born director educated in the Netherlands, winner of the Biznaga de Plata in Festival de Malaga and one of the very few Spanish directors invited to be part of The Academy / Oscars committee. His first film 'El Arte de Volver' will premiere this year at la Biennale de Venezia.
Join the Party! Friday 25th September, 7:30pm BST. We will enjoy a selection of Pedro Collantes short films to the date + chat with the director after the films.
In Person. IMPORTANT NOTICE: Our in-person event will no longer take place due to the venue's unilateral cancellation. If you have already purchased a ticket, please email us at info@cinemaattic.com to get access to the same programme online or receive a full refund.
Online. You'll be able to attend from your sofa from anywhere in the world! Films will be available after the premiere in our online platform for a full week until 2nd Oct 23:55
Tell your amigos, make a plan, prepare some tapas and let's talk with Pedro after the films. Pre-book your tickets fast, they go on sale on Monday 7th September at 12pm
Tickets
MORE ABOUT NEW SPANISH DIRECTORS
Following our famously fierce defense and passion for Short Films, we look back at the trajectory of Spanish directors that are already in vogue winning awards in international festivals with their early works, and are about to release their first feature films. In doing so, we gather the aesthetic and directorial reasons to make us believe (and you too!) that anything coming from these filmmakers in the future is bound to be something exciting.
Directors that we predict will be crucial to understand the future of Spanish cinema and we want you to discover them now, before they become too famous… We want to reclaim their cinema in present tense, looking back at their films with the certainty that you'll hear more about them in the future.
They've already acquired international prestige winning awards in festivals of the likes of Rotterdam IFFR, Locarno, Berlinale, Cannes, Clermont-Ferrand, Encounters, or Palm Springs and are about to release their first feature or recently did so.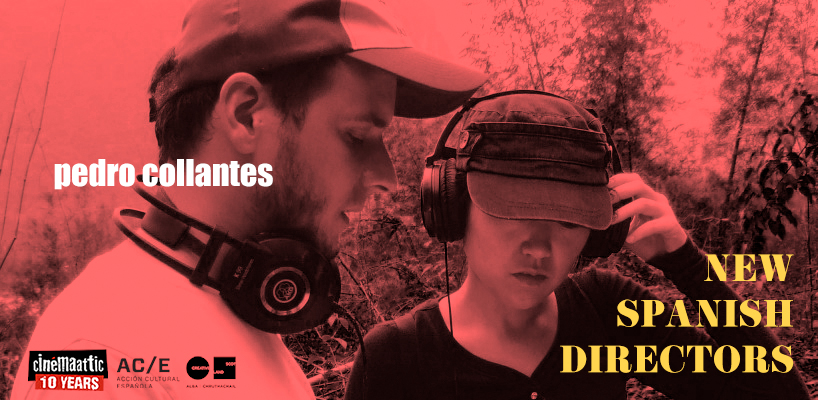 PEDRO COLLANTES
He started making short films only a decade ago, yet he is one of the very few Spanish directors invited to be part of The Academy – under the category of Animation and Short Films.
A film editor that doesn't want to cut. A restless filmmaker in constant movement that doesn't want to move the camera. A filmmaker that finds empathy in the distance. A silent director, editor and producer; his films are crucial to understand Spanish independent cinema of the 2010's decade.
International in his scope, he has made award-winning films in Japan, Norway, France, China or Spain. In 2015 he won the Biznaga de Plata in Malaga Film Festival, with 'Ato San Nen'  he was selected for the French César in 2019. His first feature 'El Arte de Volver' was the first Spanish film to be selected for the Biennale College Cinema in Venice
He is Pedro Collantes. And here we have to repeat again his subtle yet enormous influence in CinemaAttic, being for us one of the most important directors of contemporary Spanish short film history.
We are glad to welcome Pedro Collantes to visit Scotland (if Covid-19 allows it) to review his short films and discuss his ideas on filmmaking. The retrospective will include Short Film programs, Director's talks and other online and offline events.
THE FILMS
ATO SAN NEN
Year: 2018
Duration: 25m
Language: Spanish, Japanese, English
Synopsis: Marisa is a widow who lives alone with her dog Tico. One day, she receives the unexpected visit of Hiroshi, a Japanese gentleman who claims to be friends with her son. Despite the absence of a common language, Hiroshi and Marisa try to communicate with each other.
Festivals & Awards:
Clermont-Ferrand Short Film Festival – Special Mention of the Jury, Winner
Almería Short Film Festival – Best Actress (Mabel Rivera), Winner
Grenoble Short Film Festival – Best Screenplay and Audience Award, Winner
CineFest Miskolc International Film Festival – Main Prize, Winner
OFF ICE
Year: 2017
Duration: 20m
Language: French
Synopsis: While his father lies sick in a hospital room, Albert and his family try to get on with their lives. Their world seems suddenly divided in two: what happens inside the hospital, and the universe outside.
Festivals & Awards:
Alcalá de Henares Short Film Festival – Movistar+ Award, Winner
Aviles Accion Film Festival – Jury Prize, Winner
SERORI (Celery)
Year: 2014
Duration: 15m
Language: Japanese
Synopsis: There is always a first time for everything, even for celery.
Festivals & Awards:
Málaga Spanish Film Festival – Jury Special Award, Winner
Grenoble Short Film Festival – Jury Special Prize, Winner
Elche Independent Film Festival – Festival Prize, Winner
Munich Festival of Film Schools – Best Screenplay, Winner
ALCINE Short Film Festival – Best Production from Madrid, Winner
15 SUMMERS LATER
Year: 2011
Duration: 5m
Language: Norwegian
Synopsis: Everyone needs time to heal and regain balance – some longer than others.
Festivals & Awards:
IFFR Rotterdam, International Festival of Short Films – Jury Award, Winner
Encounters Film Festival – Jury Special Mention, Winner
ESKIPER
Year: 2012
Duration: 17m
Language: Spanish
Synopsis: During a break between shifts at the restaurant she works in, Sara receives a visit from her father. They sit at a busy square in the city centre. Sara tries to relax in the sunlight, but her father has other plans for this brief meeting.
Festivals & Awards:
Toulouse Cinespaña – Best Short Film, Winner
ALCINE Short Film Festival – Best Screenplay, Winner
Huesca Film Festival – Special Mention, Winner
Festival de Cine Ciudad de Astorga – Best Actress (Marta Larralde), Winner
NOTHING STRANGER
Year: 2015
Duration: 22m
Language: Mandarin, Chinese, English
Synopsis: Years ago, Ling had a dream. Even today she can remember every detail.
Festivals & Awards:
ZINEBI – Bilbao Festival of Documentary and Short Films
Encounters – Bristol Short Film and Animation Festival
ALCINE – Festival de Cine de Alcalá de Henares
Certamen de Cortos Ciudad de Soria – Best Direction of Photography, Winner
Join CinemaAttic's New Spanish Directors and discover the filmmakers of tomorrow!