FREE EVENT BUT REGISTRATION IS NEEDED
When & Where: Tuesday 7th May | 3pm | University of Strathclyde, McCance Bulsing , Room LH228
Title: Loreak (Flowers)
Directed by Jon Garaño, José Mari Goenaga
Info: Spain, 2014 – 99 min.
Ane's life turns around when, week after week, she receives a bunch of flowers at home. Always at the same time and always without a senders note.
First ever Basque-language film to be submitted by Spain to the Oscars, Loreak centres on a woman named Ane (played by Nagore Aranburu) who starts to receive bouquets of flowers once a week from an anonymous sender, won impressive reviews, with Variety calling it"beautifully cast" and "an affecting story of loss and the ways people cope" and the Hollywood Reporter judging it as a "emotionally precise, subtle and quietly gripping exploration of … romance and remembrance".
Loreak has already proved ground-breaking: it was the first Basque-language film to screen in official competition at Spain's foremost film festival, San Sebastiàn, where it premiered in 2014, as well as becoming the first Basque feature to be nominated for best film at the Goyas, Spain's equivalent to BAFTAs.
EXTRA!: Free Screening. Part of Basque Double Bill at University of Strathclyde
This screening is part of Basque Spring, a film season organised by Cinemaattic that will bring to the UK classic and contemporary films from Basque Country to UK from April 26th to May 23rd. The retrospective is supported by Etxepare Basque Institute and includes special screenings, talks and gastronomic events. More information via: at www.cinemaattic.com
FREE EVENT BUT REGISTRATION IS NEEDED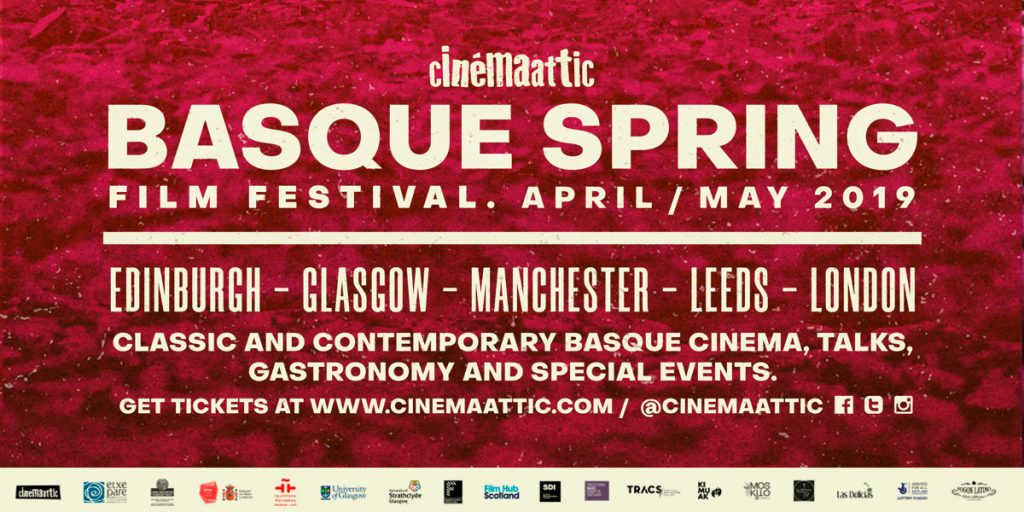 This event is part of Basque Spring, a film season organised by Cinemaattic that will bring to the UK classic and contemporary films from Basque Country from April 25th to May 23rd, and includes special screenings, talks and gastronomic events. The retrospective is supported by Etxepare Basque Institute and is part of the #ScotlandGoesBasque programme. More information via: at www.cinemaattic.com
Summary
Event
Location
​
McCance Building Strathclyde

,

68 Montrose Street

,

Glasgow

,-

G1 1RG
Starting on
Ending on
Description
When & Where: Tuesday 7th May | 3pm | University of Strathclyde, McCance Bulsing , Room LH228Title: Loreak (Flowers)Directed by Jon Garaño, José Mari GoenagaInfo: Spain, 2014 - 99 min.Ane's life turns around when, week after week, she receives a bunch of flowers at home. Always at the same time and always without a senders note.First ever Basque-language film to be submitted by Spain to the Oscars, Loreak centres on a woman named Ane (played by Nagore Aranburu) who starts to receive bouquets of flowers once a week from an anonymous sender, won impressive reviews, with Variety calling it"beautifully cast" and "an affecting story of loss and the ways people cope" and the Hollywood Reporter judging it as a "emotionally precise, subtle and quietly gripping exploration of ... romance and remembrance".Loreak has already proved ground-breaking: it was the first Basque-language film to screen in official competition at Spain's foremost film festival, San Sebastiàn, where it premiered in 2014, as well as becoming the first Basque feature to be nominated for best film at the Goyas, Spain's equivalent to BAFTAs.EXTRA!: Free Screening. Part of Basque Double Bill at University of StrathclydeThis screening is part of Basque Spring, a film season organised by Cinemaattic that will bring to the UK classic and contemporary films from Basque Country to UK from April 26th to May 23rd. The retrospective is supported by Etxepare Basque Institute and includes special screenings, talks and gastronomic events. More information via: at www.cinemaattic.com
Offer Price