GENERAL REPORT II.
THE NEW ABDUCTION OF EUROPE
(2016) • 126'
Directed by: Pere Portabella + Debate Social Movements / Future of Europe
Impact of European Crises on Arts and Politics.
Pere Portabella's latest film, looks at the political, economic, social and ecological facets of the crisis from the standpoint of networks and culture. Informe General II represents a dialogue with a new restored version
of its forerunner, Informe general on certain matters of interest for a public screening.
In 1976, the Spanish director filmed a vast fresco in motion covering the last dying embers of Franco's regime and the process for founding a democratic State. Portabella assembles the work in a structure in which the spectator is always aware of the filming device and the type of narration produced by this.
Informe General II reacts to another historical time, also hectic, unhinged and pressing, in which the map of politicians and institutions born in 1976 has been pushed aside for a diagram of multiple open and changing nodes. How is this new civil society reorganised to recover the instituting and changing function of politics. How do institutions respond to this challenge? How do films connect and interact with these new processes?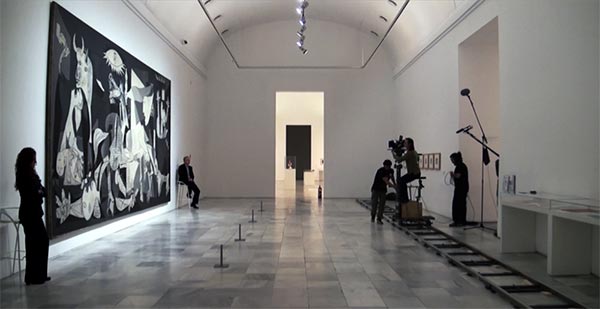 Informe General II defends the role of culture as a context for questioning the present and the role of the museum also as a public institution in its status as a setting for dissension and critical imagination from which we can consider what our inherited and immediate "narrations" are, and what type of subject can appropriate these and launch them into the future. Science, citizens groups, grassroots social movements and networks complement the cultural institution, tracing out an uncertain outlook that Portabella's film displays and questions at the same time.
Pere Portabella's career in the film world starts with the production of three of the most relevant films appearing in the modern world in Spain: "Los golfos" by Carlos Saura (1959), "El cochecito" by Marco Ferreri (1960) and "Viridiana" by Luis Buñuel (1961). The first film directed by him, "No compteu amb els dits" dates back to 1967. Portabella has thus been working in films for 56 years, 48 of these as a director. With just a temporary interruption to get involved in parliamentary politics in the early 80s, Portabella can be said to be one of Europe's most veteran active filmmakers today.
EDINBURGH
+ PANEL DEBATE: THE IMPACT OF EUROPEAN CRISES ON POLITICS & ARTS
Portabella's film throw many questions on the role of Arts Centres and new modes of political participation. At the same time Portabella questions the insufficient attention given to researchers and scientific community when it comes down to implement policies. We will discuss how these three core areas have been affected by the financial crisis. The panel will be confirmed soon:

+ GENERAL REPORT I. CATALAN CLASSICS Does Spain have a healthy democratic system? On Sunday to close the Edinburgh strand, Portabella's prequel General Report on Certain Matters of Interest For a Public Screening will be screened on Sunday 1 October at Grassmarket Community Project. Understand how a fragile Spanish democracy was trying to find its way in Europe in 1976.
GLASGOW (PORTABELLA DOUBLE BILL)
In Glasgow this will be presented as a special Pere Portabella Double Bill.  General Report (1976) + General Report II (2016) + PANEL DISCUSSION: Arts centres as a space for public debate and political participation.
DOUBLE BILL. On the same day you will be able to catch the historic prequel from 1976  General Report on Certain Matters of Interest For a Public Screening by Pere Portabella. This is a FREE ticketed screening.
CCA PANEL DEBATE: Arts centres as a space for public debate and political participation..
Glasgow panel will be confirmed soon.
Tickets for General Report I : Here
Tickets for General Report II: Here