This special exhibition gathers Vazquez's both graphic and audiovisual work together. It presents how the artist adapted his comics and illustration books into animated films.
GLASGOW:  18 – 27 January, CCA Glasgow, Intermedia Gallery. FREE. More info at CCA Glasgow
EDINBURGH: 28 January – 4 February, Summerhall
*Edinburgh Opening + Screening of Psiconautas + Q&A: Sunday 28 January, 6.30pm, Summerhall
 Tickets for the Edinburgh opening here:
EXHIBITION: ALBERTO VAZQUEZ. DARK FABLES | FROM COMICS TO ANIMATION FILMS
This is our first time, so be kind. With the help of Ana Chouciño we proudly present our first incursion in the field of exhibitions.
The work of Alberto Vazquez takes from traditional fairy tales and fables to adapt them to contemporary points of view with strong political and ecological echoes. The protagonists in these stories are animal characters in a fantasy planet that seems quite similar to the human world we live in.
Alberto Vazquez have changed Spanish modern animation with his distinctive artistic style that doesn't look like anything made before in Spain. With a dark sense of humour, Vázquez's films show an innovative approach to translating the techniques and devices from his original comics to animation.
The exhibition is part of an overall retrospective in the work of Alberto Vazquez, which includes masterclasses, workshops and film screenings in Edinburgh and Glasgow.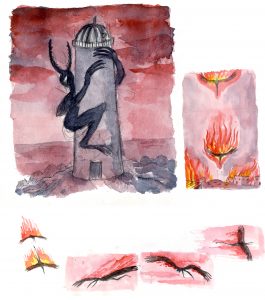 ALBERTO VAZQUEZ BIO
Animation director, illustrator and cartoonist. His books and comics have been published in countries like Spain, France, Italy, Brazil and Korea and his illustrations have been published in magazines and newspapers around the world.
He has written and directed short animation as "Birdboy" , "Unicorn blood"or "Decorado"based in his comics. He just finished his first featured film "Psiconautas", whose is director, scriptwriter, art director and based on the graphic novel of the same name by the own Vázquez.
His works have won three times the Goya Awards (best animation film and best animation short film twice) and He has won over 100 awards in international events such as the Festival of Annecy, Platino Awards, Chicago, Foyle, Silver Meliés or Expotoon. His works have been exhibited in prestigious festivals worldwide as Cannes, EFA Awards, Toronto, Annecy, Clermond-Ferrand, Animafest Zagreb or Slamdance
Opening: Sunday 28 January, 6.00pm, @Summerhall – This event is FREE from Monday 29th of january.