Spanish punks hit back with a first class selection of (horror) Short films. This time not only latest shout as they also promise "clasicos" of the genre. One of the most original programmes recently as we incluide Colombian animation and works from the ever eccentric Eduardo Casanova (Pieles)
Our premise this month is that good stories are the protagonist in horror movies.
The shorts we present this month are certainly a good example of the variety and good health in this field. Short films from Spain and Colombia will lead you down a dark path, full of twists and frights that thrill you.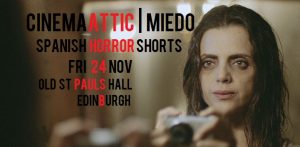 Pretty proud to introduce this special programme recovering some of our favourite spooky shorts from Spain and Colombia. . CinemaAttic invites you to celebrate the new season and embrace the life that may scaring you to death!
Look behind you…what is that shadow?! It's time to celebrate the month of the dead with a selection of spooky shortfilms… are you ready to be frightened???
El Dia de Los Muertos, Halloween, we celebrate every year superstition. It is thought to have originated with the ancient Celtic festival of Samhain. This day marked the end of summer and the harvest and the beginning of the dark, cold winter, a time of year that was often associated with death. During the Noche de los Muertos the walls between our world and the next became thin and porous, allowing spirits to pass through, and people would light bonfires and wear costumes to ward off those roaming ghosts.
We present courageous mothers, assasins, brave children, dark rooms and your worst most frightening nightmare coming true… be ready to scream!
All Spanish language short films with English subtitles.
Do expect Food & Drinks to go with the shorts, amazingly served by the notorious cinemaattic family in our famous pop up bat at Old St Paul's
Tickets £6
CinemaAttic specialises in pop-up film screenings, underground events and retrospectives on Spanish & Ibero-American Cinema.